DK-S40 Low Profile Alignment Scissor Lift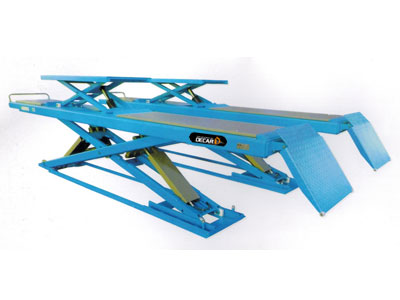 Product Infomation
DK-S40 (Double-level platform low profile scissor lift) is an ideal lift for all kind of vehicles as long as their weight is not more than 4000kg.
Model:

DK-S40

Specification:

4.0 TON Low Profile Alignment Scissor Lift

Packing Size:

Gross Weight:

Color:

Blue, red,grey
Details
Technical Specification
Model

DK-S40

Machine body

Main unit

Auxiliary unit

Lifting capacity Kg(lb)

4000(8818)

4000(8818)

Lifting height mm(")

1850(72.8)

400(15.8)

Platform height mm(")

155

Platform length mm(")

4500(177)

1500-1900(59-74.8)

Platform width mm(")

680(26.8)

600(23.6)

Lifting Speed S

≤75

≤20

Dropping speed S

≤60

≤20

Width mm(")

2260(90)

-

Length mm(")

5000(196.8)

-
Main Feature
1. Concealing structure for two levels and the initial height is below 13cm,which makes the whole machine occupies less room.
2. Fixed directly to the floor, no ditch needed.
3. Individual control box, low pressure working condition which guarantee the safety of operator.
4. Hydraulic cylinder system which keeps the synchronization of two platforms.
5. Witch hydraulic lock and mechanical dual-gear safety-claw lock double safety device, automatically open when lowering. By lock operation can has the safety-claw located adversely, safe & reliable.
6. Special valve for abnormal situation of hydraulic cylinder and overload situation.
7. Durable sliding block with no grease need.
8. Imported hydraulic, pneumatic and electrical components for key parts use.
9. The level of the lift can be adjusted in high precision to suit for various kinds of high-precision four-wheel alignment.
10. Can manually low down when it is powered off accidentally.
Overall Drawing